Reading Lead: Mrs L. McCarthy
 Reading has 'the enduring power to shape and develop minds, both in the classroom, and ultimately, outside of it,'
Doug Lemov
At Our Lady Immaculate, we believe that of the subjects taught in school, reading is first among equals – the most singular in importance because all others rely on it.  Excellence in almost any academic subject requires strong reading.  It is our responsibility therefore to prepare children to read with rigour, independence, precision, and insight, ensuring that each and every child moves steadily and reliably towards the mastery of advanced and complex skills.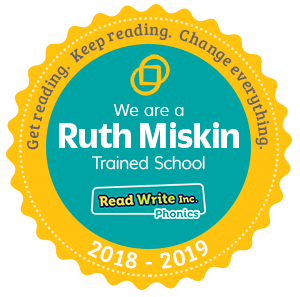 The journey to mastery begins in Foundation where we teach Phonics following the Read Write Inc. programme developed by Ruth Miskin.  Read Write Inc. Phonics is a programme for children learning to read and write. Although reading is taught using synthetic phonics, the programme covers all of the new National Curriculum requirements for language and literacy.
All children on the programme will:
read storybooks and non-fiction books closely matched to their developing phonic knowledge;
take home Phonics storybooks to share;
read with fluency and expression;
learn to spell using known sounds;
write confidently by practising what they want to write out loud first;
work well with a partner.
Teaching the programme includes rigorous assessment, tracking and tutoring to ensure that we can guarantee progress for every child. One-to-one tutoring ensures that no children are left behind. Children have positive early experiences of learning to read – they are successful and progress quickly.
Whole Class Guided Reading
At Our Lady Immaculate we also use 'Whole Class Guided Reading'.
Whole class reading is the method used to teach children to become equipped and ready to successfully navigate reading with confidence.  In order to ensure that children have access to a rich variety of texts, whole class reading books and extracts are carefully chosen so that by the time they reach year 6 and beyond, children will have a good understanding of the 5 plagues of reading (archaic, non-linear time sequences, complexity of narrator, complexity of plot, and figurative/symbolic texts), and are able to access the more complex books expected of them in secondary schools.  Children's experience of books is further developed by focusing on four common core ideas:
 Read harder texts
'Close read' texts rigorously and intentionally
Read more nonfiction more effectively
Write more effectively in direct response to texts.
Reading Spines

VIPERS
At Our Lady Immaculate, we use reading VIPERS to focus on the 6 domains of comprehension. VIPERS provides a method of ensuring that teachers ask, and students are familiar with, a range of questions.  They allow the teacher to track the type of questions asked and the children's responses to these which allows for targeted questioning afterwards.
As a parent or guardian, it would be also helpful for you to be aware of these, so that you too can practice these skills with your child when listening to your child read:
Key Stage 1
In Key Stage One children reading skills are taught and practised using the VIPERS during whole class reading sessions.
| | |
| --- | --- |
| KS1 Content Domain Reference | VIPER |
| 1a draw on knowledge of vocabulary to understand texts | Vocabulary |
| 1b identify/ explain key aspects of fiction and non-fiction, such as characters, events, titles and information. | Retrieve |
| 1c identify and explain the sequences of events in texts | Sequence |
| 1d make inferences from the text | Infer |
| 1e predict what might happen on the basis of what has been read so far | Predict |
Key Stage 2
In Key Stage Two children reading skills are taught and practised using VIPERS during whole class reading sessions.
| | |
| --- | --- |
| KS2 Content Domain Reference | VIPER |
| 2a Give/explain the meaning of words in context | Vocabulary |
| 2b retrieve and record information/ identify key details from fiction and non/fiction | Retrieve |
| 2c summarise main ideas from more than one paragraph | Summarise |
| 2d make inferences from the text/ explain and justify inferences with evidence from the text | Infer |
| 2e predict what might happen from details stated or implied | Predict |
| 2f identify/explain how information/ narrative content is related and contributes to meaning as a whole | Explain |
| 2g identify/explain how meaning is enhanced through choice of words and phrases | Explain |
| 2h make comparisons within a text | Explain |
Example of VIPERS style questions for KS1:
Example of VIPERS style questions for KS2: